Back with Joy. Employees were greeted by Jollibee mascots on their first day back in the office this June after two years of working from home. The Jollibee Group has adopted a Hybrid Work Model where employees are in the office for two days and on remote work for the rest of the week.
MANILA, Philippines. June 29, 2022 – After over two years of remote work, office-based Jollibee Group employees have returned to the workplace this June under a hybrid model, where they are onsite for two days and on remote work for other days of the week.
This set-up is part of Jollibee Group's back-to-office program dubbed Back with Joy, which employs a more human-centric approach to redesigning the new employee work-life experience. The company's workplace re-entry strategy is focused on three key components: health and wellbeing, enhanced collaboration, and a sense of purpose and social connection.
"When the pandemic started, the Jollibee Group prioritized employee health and safety even further. We adopted a remote work set-up for office-based employees and strengthened our safety protocols in our stores to help protect our store teams' wellbeing. Putting our employees' health and safety first continues to be our priority," said Arsenio Sabado, Jollibee Group Chief Human Resources Officer. "We're also nurturing productivity and collaboration to enable our employees to adapt well to the new set-up and ensuring that in our offices and in our stores, the spirit of family and fun is alive daily—something that characterizes who we are as a company."
Employee-centric
At the core of Jollibee Group's re-entry strategy is employee health and wellbeing, which refers to safety and security in all aspects of work-life, especially mental health. Apart from the three-day remote work, the company also instituted Focus Friday, a no-meeting policy on Fridays from 1 to 5 PM to give employees more time for focused work.
With help from Occupational Health and Safety experts, key sites of Jollibee Group offices in the country have been made compliant with the DOLE Department Order 224-14 or the Guidelines on Ventilation for Workplaces to Prevent and Control the Spread of COVID-19.
Employee welfare programs have also been implemented, including webinars on health and wellness and on management techniques that empower people managers to lead their teams effectively and with more empathy.
To better support team agility under the new workplace policy, the Jollibee Group is designating specific areas as collaboration spaces for tighter social connections, as well as turning specific rooms into AI-powered digital rooms that allow for more inclusive virtual collaborations among teams.
On the first day of work, employees were treated to a Back with Joy Fair with fun activities, discounts, and freebies—with Jollibee mascots to boot—so they can actively bond with their colleagues and make the back-to-office experience a truly joyful moment for employees.
"Our Back with Joy workplace re-entry program is consistent with the dedicated People Agenda in our business strategy. It reflects our people-focused culture as well as our commitment in taking good care of our employees," Sabado added.
The Back with Joy program covers teams from Jollibee, Chowking, Mang Inasal, Greenwich, Red Ribbon, Burger King, Panda Express, PHO24, support functions, and Jollibee Group Foundation.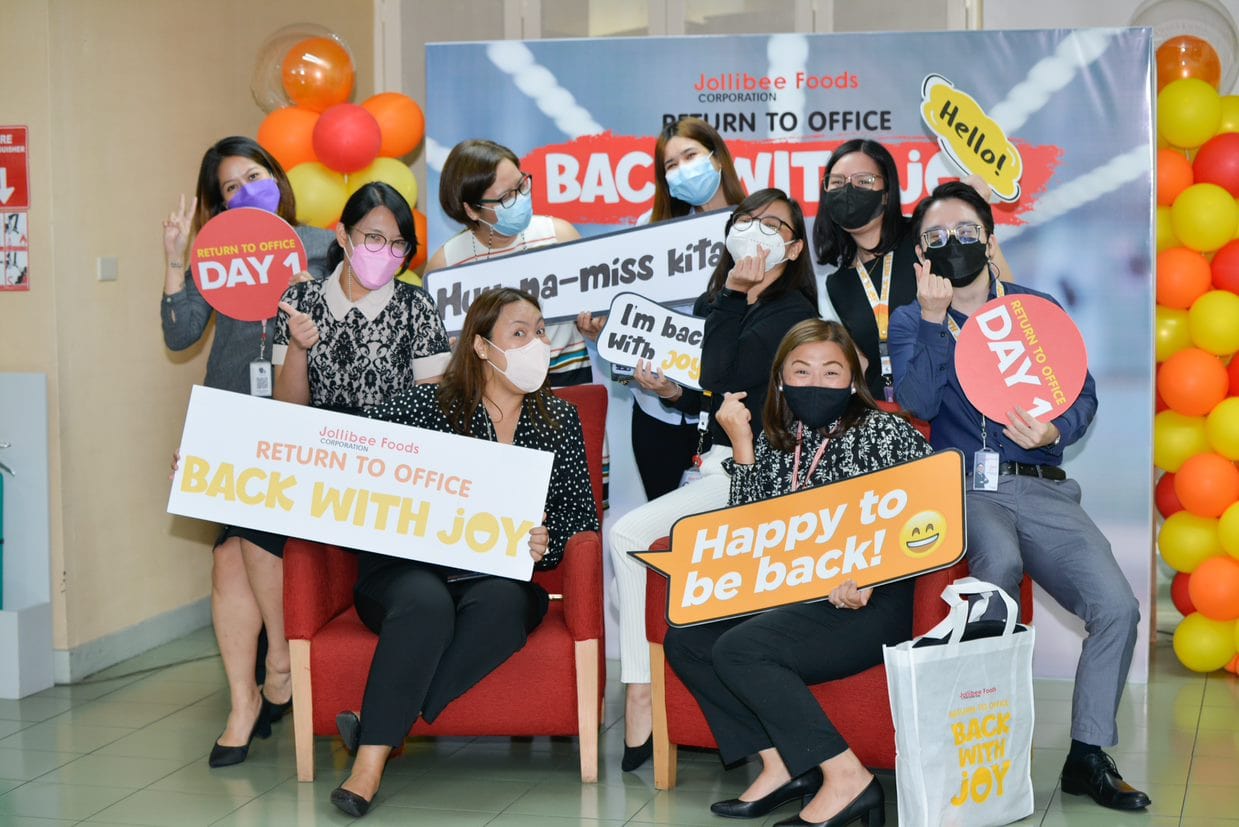 To make the workplace re-entry an enjoyable experience, Jollibee Group held a Joy Fair that offered freebies, discounts, and other fun activities that enabled employees to reconnect and bond with their peers. Webinars were also conducted for employees to help them adapt to a hybrid model.
Company leaders also toured offices and greeted employees on their first day back at the office. The Hybrid Work Model prioritizes employee health and safety while also nurturing the spirit of family and fun that characterizes the culture at the Jollibee Group.